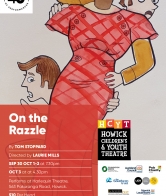 On the Razzle
By Tom Stoppard
Directed by Laurie Mills

30 September, 1 & 2 October at 7.30pm
3 October at 4.30pm

Performs at Harlequin Musical Theatre, 563 Pakuranga Road, Howick
Our Offstage students present Tom Stoppard's hilarious comedy.
When the boss Zangler goes off to Vienna to dine with his fiancé, his clerks decide this may be their last chance for an adventure (razzle) and head for the Big City. Zangler must cancel his plans, as his niece has run off with her boyfriend. Naturally, soon everyone is running into everyone else!
Suitable for 12yrs and up.
$10 per head